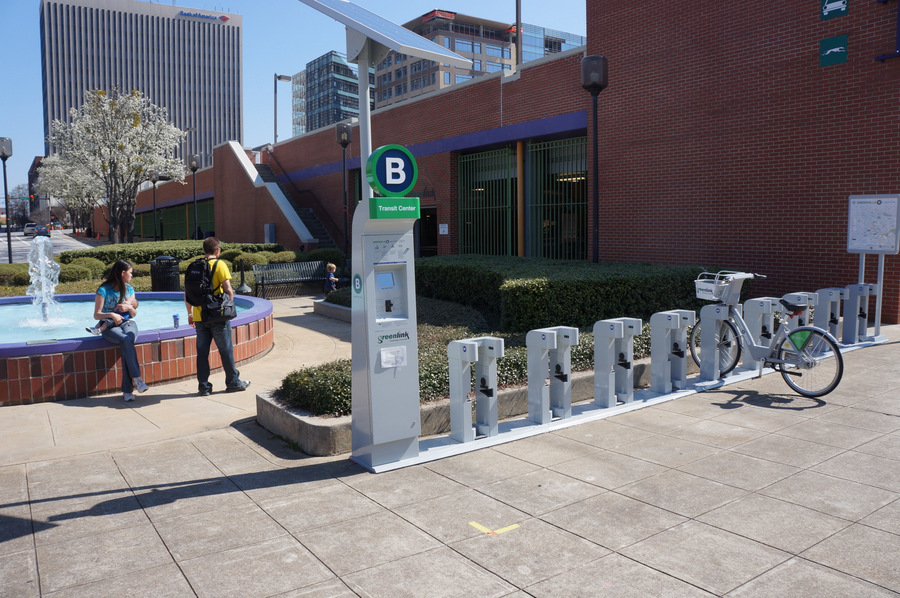 Six stations have been installed around Greenville for a new bike sharing network by B-Cycle.  They are handy to get around the city without needing to hunt for parking or use a car.   The pricing is designed to encourage short-term usage by giving members usage for the first hour at no extra charge.   Although additional pricing per hour is not bad, full day rentals are best obtained from one of the other bicycle rental shops such as Reedy Rides, Bike the Rabbit, Pedal Chic, or TTR Bikes.  As this station shows, they are a popular option when the weather is good.
Notes for Techo-geeks and Artists
For geeks: A mapping site – Greenville Open Map can suggest B-Cycle bike stations when the B-Cycle travel mode is selected.   Here is an example trip from Fluor Field to NOMA square.  Although it's easy to find your way around town today, this sort of map planning will become more useful in the future as more stations are added to the bike network around Greenville.
For geeks and Artists: Â An interactive map coloring site is intended to study transportation time from any part of the city by various travel modes. Â But it make a fun toy to create interesting color patterns. Â  Move the green marker around, and be patient as it redraws. Â  Change the "Search Type" for different color schemes and patterns. Â Change the "Mode" to see different patterns emerge.